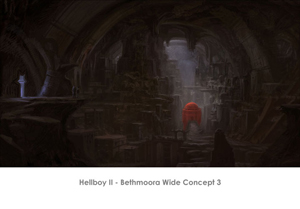 Bethmoora is a short story created by the Irish writer Lord Dunsany. Published in 1910 in the book A Dreamer's Tale, this short story tells the tale of a desolated place named Bethmoora.
In Hellboy II
Edit
In Hellboy II, Bethmoora is located in Antrim, Northern Ireland, and is a legendary underground land. It used to be a lively city, but as soon as the Golden Army was stored in Bethmoora, a plage of silence and death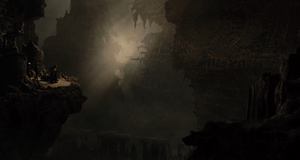 cursed the land.
External Link
Edit
Ad blocker interference detected!
Wikia is a free-to-use site that makes money from advertising. We have a modified experience for viewers using ad blockers

Wikia is not accessible if you've made further modifications. Remove the custom ad blocker rule(s) and the page will load as expected.