Prince Nuada Comic
Beyond Bethmoora was created in 2010 for some light hearted fun at HRE.
During the making of the Silverlance trailer, many sleep deprived coinversaions happened. One of those conversation shortly become a reality in the form of Beyond Bethmoora. A comic about the creatures of Bethmoora going to the premiere of the Silverlance movie.
The comic was received positively and due to fan requests it is now in the process of becoming a series.
Written by Joynn
Illustrated by GabLei
Storyboarded by Robyn
July 2, 2012 Beyond Bethmoora Vol II. Began. It will run for 8 weeks.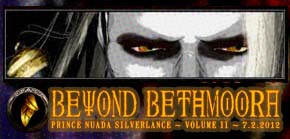 Written & Illustrated by GabLei
Storyboard & Edits by Robyn
Ad blocker interference detected!
Wikia is a free-to-use site that makes money from advertising. We have a modified experience for viewers using ad blockers

Wikia is not accessible if you've made further modifications. Remove the custom ad blocker rule(s) and the page will load as expected.